Episodes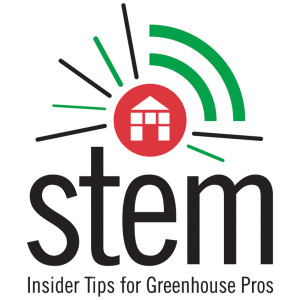 Wednesday Oct 30, 2019
Wednesday Oct 30, 2019
This episode, we're joined by Gary Vollmer, Product & Technical Manager for Selecta One. Selecta's portfolio includes many best-in-class products but for this episode we're focusing on dahlias.
We've covered a lot of crops over the course of 42 STEM episodes – from seasonal must-haves like poinsettias and mums to calibrachoa, lavender, Wave petunias and more. These deep dives tend to be some of the most downloaded and when I was putting together plans for future episodes earlier in 2019, dahlias came to mind almost immediately. We've seen many new series come to market in the past couple seasons, watched the class grow in popularity with home gardeners and spotted thousands of dahlia pics pop up on social media. It's pretty clear this is a hot crop – for breeders AND consumers. It's not a new crop by any means – dahlias have been popular for decades and have specialist groups and clubs in just about every state. But new developments in breeding and supply chain dynamics are opening these beautiful bloomers up to the mass public for many reasons. I also knew our guest, Gary, is a true expert on dahlias and has grown them for years and now is helping lead some of the latest developments.
Get ready to learn why dahlias are gaining in popularity. From diversity in color, form and size options to ongoing, cutting-edge research in modern production strategies, Gary will share reasons he and many others believe this crop is on the verge of a breakthrough. We discuss the trends but spend most of our time on selecting the best series and type for different uses and tips and tricks for producing a spectacular crop. Gary shares some specific dahlia challenges and how to avoid them and wraps up with best practices to put in place that will ensure the beautiful plants you ship out will perform at retail and ensure high sell through. And of course, he also calls out some of his favorite series, varieties and colors for quarts, gallons and larger formats. You're definitely going to want to listen all the way to the end of this one.
Resource Links:
Dahlia PowerPoint with Growing Information: https://www.slideshare.net/bcalkins/capitalizing-on-dahlia-mania-support-file
Selecta One Catalog 2020: https://www.ballseed.com/Virtual/2020_Selecta/index.aspx
Selecta One Website: http://www.selectanorthamerica.com/
Ball FloraPlant Website: https://www.ballfloraplant.com/
Contact Links:
Email Guest Gary Vollmer: gvollmer@ballhort.com
Email Host Bill Calkins: bcalkins@ballhort.com
NEW! Connect on Instagram - @STEMGreenhousePodcast
#STEMGreenhousePodcast
Connect with Ball Seed on LinkedIn: https://www.linkedin.com/company/ball-seed-co/
See Ball Seed Videos on YouTube: https://www.youtube.com/user/BallSeedVideo