Episodes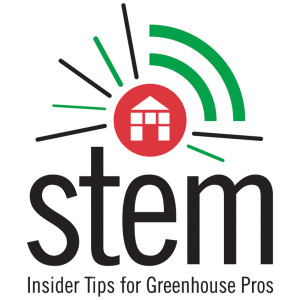 Tuesday Nov 13, 2018
Tuesday Nov 13, 2018
It's hard to believe that this is the 20th episode of STEM – Insider Tips for Greenhouse Pros. And this time we're talking to our first returning guest. Ever since the first episode of STEM launched, I've thought about more topics to discuss with Marvin, from industry data and research to current product trends and consumer groups. Now, seemed like as good a time as any, with another season of travels under his belt and new industry data and research being released.
Dr. Marvin Miller recently celebrated 35 years as Ball Horticultural's Market Research Manager and he's quick to remind me that he has been studying our industry for longer than that and also that being a researcher means he has looked at data going back far beyond those 35 plus years. Bottom line – Marvin has a ton of knowledge and ideas to share. And because his first episode was on the shorter side of STEM as we've progressed through 20 episodes, I decided to turn off the timer and let him go.
This one's almost an hour but it's worth every minute. We start by going through some current industry research and data related to today's consumer and setting participation and consumption records and quickly move into topics ranging from the current indoor plant trend and potential of the cut flower market to millennials as consumers. We also discuss lessons learned from more than 15 trips to Alaska and what politicians can learn from a pod of whales. Seriously – I'm not joking about that one. We also talk about how social media is like the shopping malls of the 1980s! You'll want to listen all the way to the end of this one – Dr. Marvin Miller… Unplugged.
Resources:
Ball Seed WebTrack: https://wtlogin.ballhort.com/Pages/Login.aspx
WebTrack To Go Mobile App: http://www.webtracktogo.com/
Catalog Product Search: https://catalogsearch.ballseed.com/
Drama In the Garden – STEM Episode 1 with Dr. Marvin Miller: https://www.greenhousegrower.com/sponsor/ball-seed-company/drama-in-the-garden/
Jamie Kitz on Growing & Giving – with a discussion of cut flower opportunities: https://www.greenhousegrower.com/sponsor/ball-seed-company/jamie-kitz-on-growing-giving/
Contact Links:
Email Guest Marvin Miller: mnmiller@ballhort.com
Email Host Bill Calkins: bcalkins@ballhort.com
Tweet Host Bill Calkins: @billcalkins
Connect with Ball Seed on LinkedIn: https://www.linkedin.com/company/ball-seed-co/
Follow The Gardens at Ball on Facebook: https://www.facebook.com/GardensAtBall/
See Ball Seed Videos on YouTube: https://www.youtube.com/user/BallSeedVideo