Episodes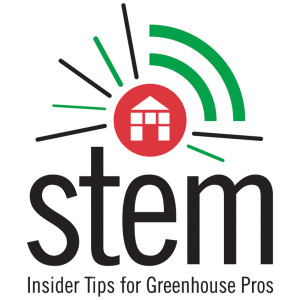 Wednesday Aug 14, 2019
Wednesday Aug 14, 2019
Interview starts at 7:58 – My guest this episode is Leslie Halleck and you can find her online at https://lesliehalleck.com/ or live an in person at many industry events. Leslie and I have known each other for many years and I've always thought of her as a leader – in terms of management when she was in her role as GM of a leading garden center, leadership in terms of ideas and strategies as a consultant and as a leader when it comes to trends demonstrated by her books and speaking topics. This episode of the STEM greenhouse podcast, we'll tap into all of those leadership areas and more. Our driving topic today is the role of, challenges facing, skill sets related to and opportunities available for women in horticulture. As Leslie will explain, she's in a very good place to bring this topic forward – as a business owner, a female and someone who isn't known to pull punches.
During this episode, we'll discuss the big picture fact that the work world was built by men for men, stereotyping in its many forms, strengths and skills women bring to management, the importance of self evaluation and also why women in horticulture must support one another. And we will also address harassment and the fact women often feel like prey – even in a work setting – and Leslie's "best practices" for women when harassment situations arise, as well as for all green industry companies because reporting and documenting are actions that require processes and practice. We wrap it all up with a discussion about how women are and could be working together to make improvements, share information and raise the tide for all.
At times, you might disagree, at times you might not or shake your head in disbelief but at the end of the episode I expect you will have learned a lot and no matter your gender will come away with new ideas, new strategies and a new appreciation for what is a reality for many people in our great industry.
Connect Four – Garden Center Group Retailer Awards from Cultivate 2019:
https://www.greenhousegrower.com/management/15-innovative-products-that-grower-retailers-loved-at-cultivate19/
Contact Links:
Leslie Halleck Contact Info and Social Media: https://lesliehalleck.com/
Email Host Bill Calkins: bcalkins@ballhort.com
NEW! Connect on Instagram - @STEMGreenhousePodcast
#STEMGreenhousePodcast
Tweet Host Bill Calkins: @billcalkins
Connect with Ball Seed on LinkedIn: https://www.linkedin.com/company/ball-seed-co/
Follow The Gardens at Ball on Facebook: https://www.facebook.com/GardensAtBall/
See Ball Seed Videos on YouTube: https://www.youtube.com/user/BallSeedVideo