Episodes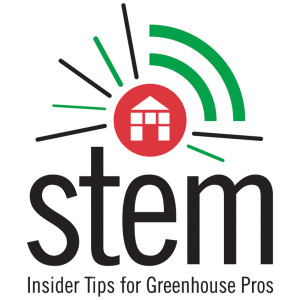 Thursday Dec 20, 2018
Thursday Dec 20, 2018
This is our first Holiday Episode and my guest definitely represents the cheer and energy of the season and just happens to spend a good part of her current role supporting poinsettias, one of our most traditional holiday crops. I'm welcoming Tanya to STEM to talk about the overall retail experience – what garden centers and nurseries AND the growers who supply them can do to inspire the shoppers of today and tomorrow.
Tanya brings a ton of energy but more importantly actionable ideas for offering in-demand products at retail, presented in inspirational packages. She shares tips and tricks for exciting customers, bringing communities together, putting on dazzling and effective events and igniting the senses. We get into some of her favorite WOW varieties, amazing greenhouse events she's attended recently – like GLOW festivals – the importance of sharing knowledge and educating and also introduce a concept she calls the "full circle experience."
When I asked Tanya to be on the podcast I had a feeling it would be a fun episode with plenty of great retail ideas, but I must admit I had no clue that her background includes a stint at Proctor & Gamble and how she brought some of those amazing consumer insights to the world of horticulture. I really enjoyed this conversation and I'm pretty sure you will, too. Definitely share this one widely throughout your organization and encourage your team to think about Tanya's predictions for the future of horticultural retail. I have a feeling she's on the right track.
Connect Four Article Link:
Ten Ways to be 10X More Productive at Work from Forbes: https://www.forbes.com/sites/lizryan/2018/02/17/ten-ways-to-be-more-productive-at-work/#649c1580126a
Ball FloraPlant & Selecta One Resources:
Contact Links:
Email Guest Tanya Carvalho: tcarvalho@ballhort.com
Email Host Bill Calkins: bcalkins@ballhort.com
Tweet Host Bill Calkins: @billcalkins
Connect with Ball Seed on LinkedIn: https://www.linkedin.com/company/ball-seed-co/
Follow The Gardens at Ball on Facebook: https://www.facebook.com/GardensAtBall/
See Ball Seed Videos on YouTube: https://www.youtube.com/user/BallSeedVideo