Episodes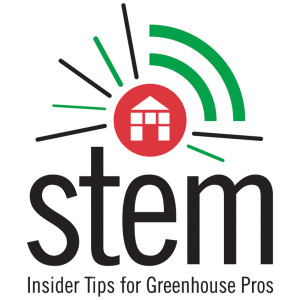 Thursday Nov 14, 2019
Thursday Nov 14, 2019
This episode, I'm joined for the third time by Mason Day, Co-Founder of GrowIt! Mobile. GrowIt! is a digital plant community that helps users connect with other local plant people. With almost one million users across North America, it's quickly become THE place for social plant conversations.
The GrowIt! team recently released a very in-depth Houseplant Report that captured tons of information and data to better understand the houseplant trend that's been all the talk lately. We've discussed this trend on STEM in the past and referenced many articles from mass media that characterize the way people, mainly millennials, are seeking out indoor plants with a fervor not seen in decades. We've speculated about the reasons behind the trend and expressed excitement about the uptick in sales many growers and retailers have experienced. But we haven't really seen much data and certainly haven't explored the topic in depth. Until now.
In this episode, Mason shares the top findings from the GrowIt's Houseplant Report – from confusion around light requirements and how to apply supplemental lighting to an emerging sub-trend related to large plants and unique foliage patterns. We spend some time discussing the pots indoor plants are sold in, as well as a term new to both Mason and me, Double-Pots. With each of these findings, Mason is quick to offer suggestions from a plantsman's point of view, as well as tips for growers and retailers looking to capitalize on the wants and needs of real consumers. Some of the other topics we touch on include pricing – how NOT to leave money on the table via across-the-board pricing – and a newly identified shopper wish for more indoor trees and shrubs. Would you have guessed people want indoor Weeping Willows, yeah… me neither. But they do!
We wrap things up by discussing big plans for the GrowIt! Mobile community in 2020 and beyond. When I say big things, I mean big things for growers, retailers and other hort professionals. Armed with tons of data, expect more detailed reports and information from GrowIt! In the very near future.
Mason is a terrific guest and brimming with ideas – all couched in a holistic understanding of the industry. As I always say, GrowIt! isn't a tech company trying to plug into horticulture, it's a hort company bringing cutting-edge technology and predictive analytics to industry. You're going to want to listen all the way to the end of the interview because it's truly an action-oriented conversation.
GrowIt! 2020 Houseplant Report: https://www.growitmobile.com/houseplantreport
Download the GrowIt! Mobile App and learn more about this tech company: https://www.growitmobile.com/
Past Episodes with GrowIt!
Episode 8: What Today's Shopper Wants: https://stempodcast.podbean.com/e/what-today%E2%80%99s-shopper-wants/
Episode 28: Consumer Insights from GrowIt!: https://stempodcast.podbean.com/e/consumer-insights-from-growit/
Contact Links:
Guest Mason Day: mday@growitmobile.com
Host Bill Calkins: bcalkins@ballhort.com
NEW! Connect on Instagram - @STEMGreenhousePodcast
#STEMGreenhousePodcast
Tweet Host Bill Calkins: @billcalkins
Connect with Ball Seed on LinkedIn: https://www.linkedin.com/company/ball-seed-co/
See Ball Seed Videos on YouTube: https://www.youtube.com/user/BallSeedVideo