Episodes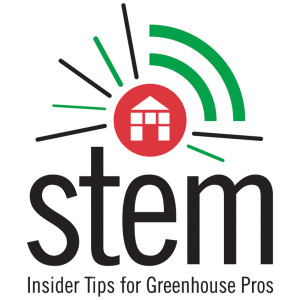 Friday Sep 13, 2019
Friday Sep 13, 2019
Our guest today is Dr. Will Healy returning to cover another seasonal crop. Our three-part miniseries on Garden Mums has had hundreds (if not thousands) of downloads and we've heard tremendous feedback. So, I couldn't wait to have Will back to kick off a two-parter on Poinsettias. If you are listening in real time, you know it's week 37/38 and your greenhouse is full of poinsettias. If you aren't listening in real time, that's great because the tips and strategies shared over the next two episodes will be invaluable as you start planning your next poinsettia crop.
In this first part, Dr. Healy takes a deep dive into Nutrition. As he explains, when it comes to poinsettias, if you have the nutrition right, most of your problems will be greatly reduced. We start with an overview of the importance of monitoring EC and pH and quickly get into the nitty gritty details of how to approach feeding your crop, the benefits of front-loading fertilizer and even why withholding feed is a bad strategy. Will does a great job explaining how your feeding decisions impact the EC of the crop, as well as how feed leads to excellent or poor crop presentation at retail. If you are wondering what to do if EC starts to creep up, be sure to listen all the way to the end.
We also spend time on pH and what can be gained by staying in the optimal 5.8 to 6.2 range. One of the most applicable parts of this episode is Dr. Healy's explanation of how to determine crop needs based on the size of leaves on the plant and how you can effectively measure them using your two hands! As we wrap the episode up, Will talks about watering and shares some poinsettia specific watering strategies. As I mentioned before, you are going to want to listen this one all the way to the end. And also, share it with your entire poinsettia team because when you're all on the same page, good things will happen.
Resources:
EC Monitor: https://www.amazon.com/gp/product/B000VVVEUI?pf_rd_p=2edffb5d-036e-4cd0-bc77-99980e2d4856&pf_rd_r=0BYNK2B0GCMMRYBKW6K9
Selecta One Poinsettia Catalog (Culture Guides on Page 32): https://www.ballseed.com/Virtual/2019_poinsettia/index.aspx#
Ball Seed Poinsettia Growth Tracker Tool: https://www.ballseed.com/CatalogsBrochures/#digital-tools
Dr. Healy's Past Episodes:
STEM Episode 30: Your Best Mum Crop Ever (Part 1) - https://stempodcast.podbean.com/e/your-best-mum-crop-ever-part-1/
STEM Episode 35: Your Best Mum Crop Ever (Part 2) - https://stempodcast.podbean.com/e/stem-podcast-insider-tips-for-greenhouse-pros-your-best-mum-crop-ever-part-2/
STEM Episode 37: Your Best Mum Crop Ever (Part 3) - https://stempodcast.podbean.com/e/your-best-mum-crop-ever-part-3/
STEM Episode 21: The Language of Watering - https://stempodcast.podbean.com/e/the-language-of-watering/
STEM Episode 22: Watering: The Rest of the Story - https://stempodcast.podbean.com/e/watering-the-rest-of-the-story/
 Contact Links:
Email Guest Dr. Will Healy: whealy@ballhort.com
Ball Seed Customer Relations and Poinsettia Help: 1-800-879-BALL
Email Host Bill Calkins: bcalkins@ballhort.com
NEW! Connect on Instagram - @STEMGreenhousePodcast
#STEMGreenhousePodcast
Tweet Host Bill Calkins: @billcalkins
Connect with Ball Seed on LinkedIn: https://www.linkedin.com/company/ball-seed-co/
Follow The Gardens at Ball on Facebook: https://www.facebook.com/GardensAtBall/
See Ball Seed Videos on YouTube: https://www.youtube.com/user/BallSeedVideo